You love wine and you are thinking more and more about building a small reserve, a small "wine cellar". But how do you go about it? Is it really necessary to build an actual "cellar"? Is it better to keep only red wines? If so, which ones age best? What about white wines and rosés?
In this article, Terry Pomerantz tells us how to start your wine cellar, without breaking the bank.
Wine cellar or wine cooler?
"You don't have to go to the expense of construction to turn part of your basement into a wine cave. Just start with a good quality wine cellar. But be careful! Don't confuse the terms wine cellar and wine cooler," advises Terry Pomerantz.
Indeed, the difference between a wine cellar and a wine fridge is that a wine cellar is specifically designed for wine storage. It has a more precise thermostat than a wine cooler, which protects your wine from sudden temperature changes. Unlike a wine fridge, the compressor of a wine cellar is mounted on shock absorbers to prevent your bottles from vibrating. Much better insulated than a wine cooler, the cellar is designed to maintain a good level of humidity. Finally, the glass of the cellar door is tinted and treated against UV rays. A wine cellar allows the wine to improve in a quiet environment and in conditions of conservation that have nothing to envy to a traditional wine cave.
Cellars can hold 26, 48, 100 or more bottles. To start, Terry Pomerantz suggests a 48 or 60 bottle cellar with 2 cooling zones. White and rosé wines are usually kept in the cooler zone, and red wines in the temperate zone.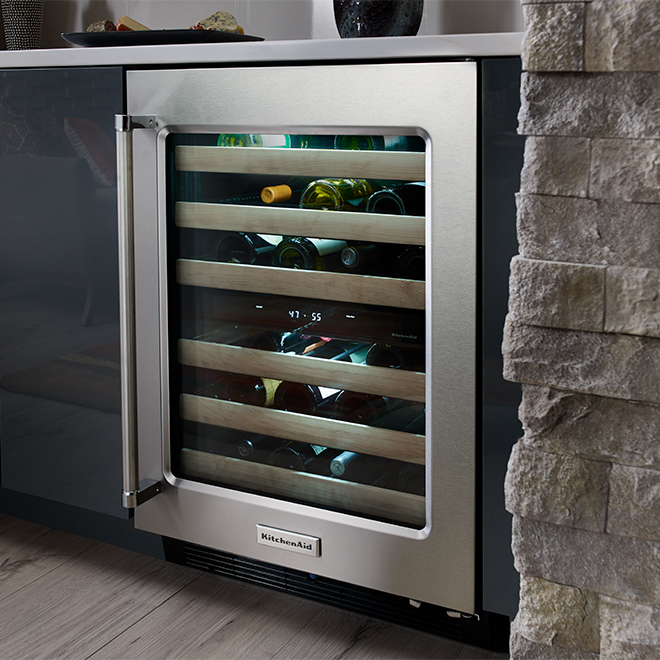 What wines should you buy to start with?
"My first criterion for choosing a wine is to like it! To build your first wine cellar collection, I suggest you start with a few bottles of the wines you have already tasted and like. There's nothing worst than opening a bottle of wine only to find out on the first sip that it's really not the flavour you're looking for, especially if you paid a lot of money for that 'good' bottle!"
Not all wines are conducive to aging. Quality reds such as Bordeaux, Burgundy, Barolo and some Californian wines are much better suited to ageing than whites or rosés which are meant to be consumed chilled and gain nothing by ageing.
In a previous article on wines for aging, Terry shared his personal tastes with us. He also suggested that we ask for information from SAQ advisors. Your Inspire program card is an invaluable tool that will help your wine advisor, no matter which store you visit, to recommend cellar wines that match your tastes and the price you want to pay.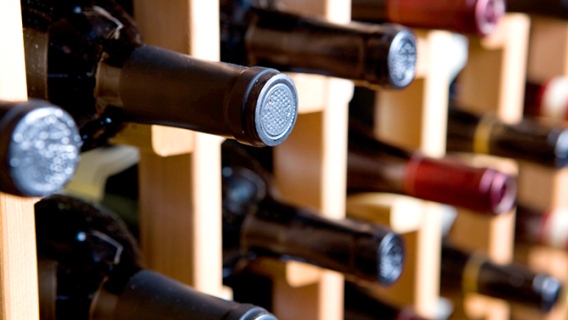 Understanding the vine cycle
If you're wondering how to start your wine cellar, you should also learn more about wine. Our article about "Understanding the cycle of the vine" can help you learn more about grape varieties, the main wine regions in the world, the great vintages and some famous vineyards.
You can check out great books on these topics at your local library or purchase them in Libraires du Québec (French-only website) bookstores. You will also find a lot of information on the Internet, which is full of specialized sites.
How to start a wine cellar: the budget
The wine cellar is the perfect replacement for the traditional wine cave. Whether you live in a condo tower, an upstairs apartment, or a single-family home, the wine cellar can be installed anywhere and costs much less than a traditional wine cave. The wine cellar allows a true democratization of wine conservation.
Nectar of the gods
How can simple grapes, a small fruit tree, a little rain, soil, sun and careful care from the winemaker give birth to this nectar of the gods? "To taste a good wine is to taste the divine, to taste life!" concludes Terry Pomerantz, with all the gratitude we owe to the winemakers and artisans of the earth who create such masterpieces!