Terry Pomerantz's world extends far beyond that of a Montreal entrepreneur and the fabulous philanthropist whose family foundation helps sick children. Terry's world is also the wonderful world of wine.
Taste several wines and take notes!
Before investing in the wines that will furnish your wine cellar, Terry recommends tasting several wines from different regions of the world. They don't have to be expensive wines. When you drink a wine that you particularly like, write its name down. For complete information on each wine, Terry recommends downloading the Vivino app. It also shows you the best food and wine pairings with red meats, pasta, seafood, and vegetarian dishes.
Choosing a wine for aging
Once you know whether you prefer Italian, Bordeaux, Spanish Rioja, or Californian wines, consult an SAQ advisor. With the help of your list, he or she will be able to recommend aging wines that you will like and that may age. "Of course, a good vin de garde costs more than an everyday wine. You also have to be patient. Some will take 20 years to reach their full potential," Terry says.
Terry's tips
"When you start a wine cellar, it is important to buy wines that you can drink immediately, such as Pinots Noir, Cabernet Sauvignon Coppola or Kim Crawford Merlot. It helps to preserve the wines for laying down from premature taste curiosity…"
"When I choose a wine recommended by an SAQ advisor, I drink a bottle first. If I like it, I buy two bottles per vintage. Why two bottles? Because I like to taste one after a few years before deciding whether the second bottle deserves to age even longer. »
Italian wines: the best wines for laying down
"Personally, I prefer Italian long-keeping wines! I have red wines in my cellar such as the Piedmontese Borgogno No Name with notes of red fruit and chocolate and the Tuscan Isole e Olena Cepparello 2016. The 2003 Sassiscaia is a masterpiece that no longer seems to be offered by the SAQ while the 2003 Tignanello is a fruity and astringent wine with black fruit, oak, and tobacco aromas. The 2003 Tignanello is one of the top 1% of the world's best wines. »
The cellar family
"Wines for laying down are like orphans who are gathered into one big family. Over time, the family of a cellar produces happiness, generosity, and greatness of spirit. A wine cellar is made for sharing the good things in life," concludes Terry Pomerantz, a great wine lover and happiness maker!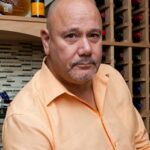 An avid wine lover, Terry Pomerantz shares his love of fine bottles, guided by a responsible approach to the art of living. Discover his advice on food and wine pairing, his favorite bottles, and the ideal choices for each season and occasion. Immerse yourself in his passion and learn to fully appreciate each bottle in good company.