As a complement to children's Advent Calendar, Terry Pomerantz offers wine loving parents his winemaker's Advent Calendar, which mostly includes Quebec wines.
The origins of Advent Calendars
The very first Advent Calendars were created in Germany in the 19th century. It was a question of giving kids a pious image throughout the 24 days before Christmas.
In 1920 appeared the first Advent Calendars with the little doors. Later, in 1958, the first Advent Calendars with little windows with a chocolate inside were commercialized.
"Today, there are several different types of Advent Calendars" comments Terry Pomerantz. "Chocolate, Christmas decorations, Star Wars figurines, Barbie clothing or accessories, coffee capsules and so many more. So, why not have a Quebec wine Advent Calendar?"
Terry's Quebec wine Advent Calendar
The Quebec wine Advent Calendar that Terry Pomerantz suggests combines 12 of the best Quebec wines, including a few of our best white wines and our best orange wines.
Terry Pomerantz specifies: "Éduc'alcool has been repeating for years that it is important not to drink alcohol every day. So, I suggest tasting a Quebec wine every 2 days during the 24 days before Christmas. Let's be festive, but with moderation! So, we will begin our wine tasting on December 1st and will end with bubbles on the 24th of December."
A tasty month of December
The 2022 Chat Botté Rouge Bourbon, a red wine from Montérégie made from a blend of Marquette (45%), Frontenac (33%), Radisson (13 %) and Sabrevois (9%).
The 2021 Coteau Rougemont la Côte Chardonnay, a white Chardonnay from Montérégie.
The 2021 Mas des Patriotes le Sieur Rivard Sélection, a red wine that offers a perfect blend of Baco Noir (30%), Frontenac (30%), Lucie Kuhlmann (20%) and Sabrevois (20%).
The Coteau Rougemont Versant Orange, an orange wine with spicy undertones, tangerine and peach pit flavors. Made in Montérégie from a blend of 58% Saint-Pépin, 23 % Geisenhaim, 6 % Vidal and 13 % of other grape varieties.
The 2020 Vignoble Gagliano Frontenac Noir, a red made from 100% Frontenac from the Eastern Townships.
The 2021 Stanbridge, a white wine made from 100 % Vidal, from the Domaine du Ridge winery in the Eastern Townships.
The Domaine Labranche, is a red wine made from 100 % Frontenac that pairs perfectly with a flank steak cooked in red wine.
The 2021 Lano d'Or, an orange wine made from 100 % Louise Swenson. The Lano d'or winery is located close to the Saint-Lawrence, in Lanoraie, Lanaudière.
The 2019 Léon Courville Vigneron Réserve St-Pépin, a white wine made in Lac-Brome that pairs perfectly with a clam chowder or cod filet.
The Domaine Labranche, an organic orange wine that is the perfect blend of 81 % Frontenac blanc and 19 % Frontenac gris.
The 2021 Domaine Saint-Jacques Réserve Rouge, an organic red wine that pairs perfectly with pasta.
L'Orpailleur Brut, a sparkling wine made from 50 % Seyval and 50 % Vidal. The L'Orpailleur winery is located in Dunham, in the Eastern Townships.
Don't forget that you can freeze your leftover red and white wines from Terry's Pomerantz Advent Calender.
"Explore –and enjoy- Quebec wines with moderation. I hope you truly enjoy the holidays!" concludes Terry Pomerantz.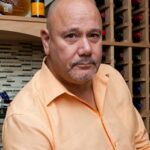 An avid wine lover, Terry Pomerantz shares his love of fine bottles, guided by a responsible approach to the art of living. Discover his advice on food and wine pairing, his favorite bottles, and the ideal choices for each season and occasion. Immerse yourself in his passion and learn to fully appreciate each bottle in good company.