The Niagara Region
In Canada, Terry has not had the opportunity to visit the vineyards of Quebec or British Columbia. Instead, he did visit a few wineries in the Niagara region. "The region is beautiful. Towns like Niagara-on-the-Lake are charming. The food is particularly good. The inns and B&B are pure British romance. Their owners know the area very well and will be able to advise you on which vineyards to visit." Terry has hence chosen the following vineyards for us.
Château des Charmes
The Château des Charmes is a magnificent place with its imposing building in the French castle style. This vineyard produces light and fruity white wines including a Sauvignon Blanc and a Chardonnay Musque, full-bodied and firm whites like their Chardonnay St-David as well as red wines like their full-bodied and supple Equuleus Paul Bosc.
Peller Estates
The Peller Estates are also interesting to visit. You can eat at the Winery Restaurant or the Barrel House Grill. On the white wine side, the Peller Estates grows a Muscat, a Pinot Gris, and a Sauvignon. Their red wines are not to be outdone with a Merlot, Gamay, Baco and Cabernet Franc.
Colaneri Estate Winery
The Colaneri Estate Winery welcomes you in a beautiful Tuscan style building. The white wines grown here include a Cavallone, a Pinot Grigio, a Mistera and a Gewurztraminer. Their red wines are quite good. Let's mention the Coraggiose, a 2017 Cabernet Sauvignon and the Vissione, a 2017 Syrah.
No. 99 Whisky
What Canadian does not know the famous number 99 jersey of the greatest hockey player of all time, Wayne Gretzky. His Wayne Gretzky Estates distillery produces excellent whiskies. These include the Ice Cask Whisky, the Ninety-Nine Proof Canadian Whisky, and spirited wines such as the Vidal Artisanal and the Muscat Artisanal.
Ice Wines, the region's greatest success story
"If you like ice wines, you can taste them and get some excellent ones in the Niagara region. The 2016 Riesling and 2017 Vidal from Château des Charmes are great successes. The 2017 OKA Aged Vidal Signature Series and the 2017 Peller Estate Riesling Signature Series are equally respectable. The Colaneri vineyard produces the Dolcezza Rosso, a red dessert ice wine ideal to accompany chocolate or tiramisu.
Wine is good in Canada
"Several Canadian vintages are promising. However, for me, for my tastes, none of them have yet reached a maturity of wine for laying down. The know-how of Canadian and Quebec winemakers is constantly progressing. I have no doubt that in a few years our vineyards will produce wines that are almost as good as those Italian wines that I love so much… too much perhaps, to be objective. Besides, I am not a wine critic. I'm just a wine lover who only wants to share a good bottle with friends!" Terry concludes.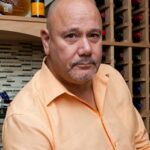 An avid wine lover, Terry Pomerantz shares his love of fine bottles, guided by a responsible approach to the art of living. Discover his advice on food and wine pairing, his favorite bottles, and the ideal choices for each season and occasion. Immerse yourself in his passion and learn to fully appreciate each bottle in good company.