A World of Discovery
As soon as he enters his wine cellar, Terry marvels like a child! How could Terry Pomerantz be a philanthropist for children without loving life, without loving wine? With his usual verve, he leads us from one good wine to another like an explorer who discovers, fascinated, the treasures of a new continent.
Incursion into Terry's cellar
Terry's findings are carefully stored behind the large glass wall of his cellar. "To the left, as I enter, I store the California wines and the French wines. On the shelves along the back wall are the Italian wines. Finally, in the island that emerges from that wall, you'll find the Bordeaux and the white wines."
What are Terry's five favorite wines?
Among all the wines in his cellar, Terry has a particular affection for five wines, his favorites of the moment.
The Papillon 2016. "It's a California wine made by the producer Orin Swift in the Napa Valley. The Papillon 2016 is an excellent blend of Cabernet Sauvignon, Merlot, Petit Verdot and Malbec."
The Antinori Toscana Tignanello 2016. "Oh! Here's a masterful Italian wine, superbly balanced. It's 80% Sangiovese, Cabernet Sauvignon and Cabernet Franc."
The Sassicaia 2016 is also a Tuscan wine. "The Sassicaia reveals aromas of blackberries, cherries and roasted herbs. This sharp wine goes perfectly with a nice piece of grilled beef on the BBQ."
"The Château Giscours Margaux 2011 is a beautiful Bordeaux of the Medoc, velvety, with a superb spicy finish."
"I am also very fond of this classic, the Châteauneuf-du-Pape 'Saintes Pierres de Nalys' 2016."
More than wine, the story of a people
"Each one of these bottles has so much history. The shape of the bottle, the label, the flavour of the wine, it's all about the taste of a corner of the world, its sunshine, the joys and the work of generations of craftsmen who have tended to that soil and those vines for centuries to create a magical land. The 'Life of Good Wine'!" "To your health!"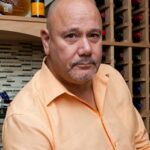 An avid wine lover, Terry Pomerantz shares his love of fine bottles, guided by a responsible approach to the art of living. Discover his advice on food and wine pairing, his favorite bottles, and the ideal choices for each season and occasion. Immerse yourself in his passion and learn to fully appreciate each bottle in good company.