We know the epicureanism of Terry Pomerantz. Great lover of wines and good food, Terry prefers to taste his favorite wines at home with his friends. His cellar is within his reach as well as his kitchen and its pots and pans, his BBQ and his humidor that preserves the cigars he keeps for connoisseurs. That's all he needs to be wonderfully comfortable in the company of his guests!
Celebrating life
Terry encourages us to discover the fabulous world of wine. "The important thing is to discover this universe of flavors, fragrances and shades of color. Wine is a symphony of flavors, a hymn to joy the notes of which are constantly recreated by the know-how of winemakers. The most important thing is to take the time to know and love wine and to celebrate life. Wine is the alchemy of the artisan winemaker's work that is transformed into pure pleasure, wherever we are in the world."
Visiting vineyards and frequenting wine bars
"In addition to visiting our vineyards, frequenting wine bars is also a great way to discover wonderful wines, often privately imported. Their sommeliers love to describe the unique characteristics of these wines, explain where they come from and describe their terroir. Passionate, these men and women are excellent teachers!"
The short history of vineyards in Quebec
Wild vines were growing naturally on the Île d'Orléans long before Cartier's arrival. In fact, Cartier named it Isle de Bacchus. In 1608, Champlain planted a few vines in Quebec City, without success. After the Conquest of New France in 1760, beer and spirits replaced wine imported from France and distilleries and breweries multiplied throughout Quebec. But the Jesuits and the Sulpicians needed wine for the celebration of mass. So they cultivated a few vines with some success for the needs of this ritual.
After the First World War, Italian and Portuguese immigrants arrived. To make their own wine, in the absence of real vineyards, these European newcomers bought grapes at the Jean-Talon and Atwater markets.
It is only during the 80's that the first winegrowers settle in Quebec. Their first success was ice wine, which is now recognized worldwide. Having evolved at great speed, Quebec wines have carved out an increasingly important place for themselves on our tables. Although they still cannot be compared to the great European vintages, our wines have some very nice surprises in store for wine lovers.
Discover Quebec's vineyards
Over the last few decades, vineyards have developed throughout the province of Quebec. You can often taste the wines produced there. Since we travel more and more in Quebec, why not take the opportunity to explore our wine world?
Deux-Montagnes. Just minutes from Montreal and Laval, this wine region is rooted in the Oka Hills and the surrounding rolling plains. Located there are the Vignoble La Cantina, Vignoble Rivière du Chêne and Vignoble d'Oka.
Richelieu River Valley. Also located near Montreal, the rolling plain east of the Richelieu River stretches from the St. Lawrence River to the Adirondack foothills. Several vineyards have been successfully established there. Let us mention Vignoble du Mouton noir in Saint-Antoine-sur-Richelieu, Vignoble Les Murmures in Saint-Jean-Baptiste and Le Mas des Patriotes in Saint-Jean-sur-Richelieu.
Monteregian Hills. Still close to the metropolitan Montreal, these vineyards stretch to the foot of the Saint-Hilaire, Rougemont, Saint-Bruno, Saint-Grégoire and Yamaska mountains. We find there the Vignoble et Cidrerie Coteau Rougemont, Kobloth vineyard in Saint-Bruno-de-Montarville and Vignoble La Grande Allée in Mont-Saint-Hilaire.
Appalachian Foothills. This region stretches from Lake Champlain to the Sutton Mountains. Some of Quebec's most renowned vineyards have settled here, including the Orpailleur vineyard in Dunham, Léon Courville Vigneron in Lac-Brome and Les Pervenches in Farnham.
Appalachian Plateaus. The plateaus include the sectors of South Durham, Victoriaville, the Sutton Mountains, Magog and Sherbrooke. Among the local vineyards are Au Vignoble d'Orford and Vignoble les Côtes du Gavet in Victoriaville.
Lake Saint-Pierre. Midway between Montreal and Quebec City, the region stretches from Varennes to Bécancour along south shore of Lake Saint-Pierre, and Repentigny to Trois-Rivières on its northern shore. We visit there the Domaine du Fleuve vineyard in Varennes, Domaine du Clos de l'Isle in Bécancour and Domaine Gélinas in Saint-Sévère.
Quebec and the banks of the St. Lawrence. This region includes the southern outskirts of Quebec City, Île d'Orléans and Côte-de-Beaupré. The Domaine de L'Ange-Gardien, Vignoble Ste-Pétronille on Île d'Orléans and Le Ricaneux vineyard in Saint-Charles-de Bellechasse have earned an enviable reputation.
Wine Bars
In addition to striving to introduce you to the refinement and delicacy of wines you won't find at the SAQ, wine bars and refreshment bars and often offer wine and cheese pairings, as well as wine and tapas.
Wine bars in Montreal
There are several very good wine bars all over Montreal. On Park Avenue, the Pullman presents a very nice selection of wines by the glass such as the Weinland 2017, an Austrian red wine, or the Oltrepo Pavese 2017, an Italian Frecciarossa. By the bottle, their choice is impressive. The range extends from the Picpoul de Pinet 2018 to the Puligny-Montrachet 1er cru Les Demoiselles 2015!
On the Plateau-Mont-Royal, the Rouge Gorge serves great vintage and organic wines. Their 4,000-bottle cellar holds some of the finest masterpieces of the winemaking world. In Little Italy, on Beaubien East, Cul-sec offers an excellent choice of quality wines at low prices. Finally, in the La Petite-Patrie neighbourhood, vinvinvin helps us discover a world of vins vivants (natural wines) imported mainly from Central European countries. There are also very good wine bars in Saint-Henri, Verdun and Outremont.
Quebec City wine bars
If the first vines were planted in Quebec City by Sieur Samuel de Champlain, 412 years later wine bars have multiplied. The Château Frontenac's 1608 Wine & Cheese Bar has an exemplary wine list to accompany the superb creations of its cheese cellar. The neighbourhood bar Le Renard et la Chouette, a Lyon-style bistro on Saint-Vallier West, offers charcuterie and blood sausage on the menu, and the Terroir – Vins et Compagnie offers a fine wine list, and tapas to go with it.
Some regional wine bars
In the Sainte-Rose district in Laval, the Oregon wine bar allows you to explore natural wines, orange wines as well as pét-nat wines (from the French pétillant naturel, natural sparkling wines). Late evening menus are also served in case you're feeling a little peckish.
In Magog, Étiquette is a restaurant and wine bar. In Repentigny, the Liège wine bar offers privately imported organic, biodynamic and natural wines. In addition to French, Italian and Spanish wines, there are Greek, Australian, American and even a Turkish wine, the Thrace 2016 Papaskarasi Chamlija. In Boucherville, Le Tire-Bouchon, a French bistro of Moroccan inspiration, is well worth a visit.
In the Outaouais, in Gatineau, what better way to quench your thirst than the wine bar… Soif! Its wine list offers a trio of extraordinary German whites. The Landwein Main Müllwer-Thurgo 2017 is accompanied by the Mosel Nierdermeinniger Rielsing 2018 and Pfalz Weisser Burgunder Trocken 2019. Its red wine trio is equally flamboyant, with the Burgenland Béla-Joska 2017, Einsenberg 2017 and Eisenberg Deutsch Schutzen 2017.
In Rimouski, the sommelier Isabelle Claveau runs Les oiseaux rares, a very trendy wine (and local beer) bar. Near Waterloo, Outarde jaune (Chardo) offers a selection of natural wines that involve as little intervention as possible. These privately imported wines include whites from Austria, Spain and Quebec as well as skin-fermented (orange) wines from Italy (Denavolo Catavela 2018), France (Le Grenache Gris de Jean 2017 from Château La Baronne) and British Columbia (A Sunday in August Pinot Gris). There are also magnificent rosés and reds at very affordable prices!
Finally, in Terrebonne, La Buvette du Vieux-Terrebonne treats your palate to graciously modern wines, including whites and reds from the Douro Valley in Portugal, the Peloponnese region in Greece, South Africa, Tuscany, Andalusia, Southwestern France and the Okanagan Valley in British Columbia.
"Whether you are tasting a local wine or an imported vintage, the artisans in our wineries and the experts in our wine bars will introduce you to the art of wine tasting. Local wines are on the rise! It's really worthwhile to linger a while, if only to discover the determination, know-how and love that the local winemakers put into developing their creations."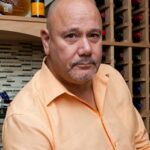 An avid wine lover, Terry Pomerantz shares his love of fine bottles, guided by a responsible approach to the art of living. Discover his advice on food and wine pairing, his favorite bottles, and the ideal choices for each season and occasion. Immerse yourself in his passion and learn to fully appreciate each bottle in good company.