Like many of us, you are wondering what white wine to use when cooking. A dry white wine such as Chardonnay, Sauvignon or Pinot? Or a sweeter Riesling or Muscat. Are there any recipes where it is better to use a sparkling white wine?
A terribly simple, and delicious suggestion
"Cooking is simple, I use the bottles I haven't finished," Terry says with a good heart. Terry also uses everyday white wines. "These wines are younger. They have less acidity and are fruitier." In any case, Terry suggests that you first taste the white wine you are going to use. "It's important not to use a corked wine. You also have to like the taste of that wine and match it well with the other ingredients in the recipe you're making."
French Onion Soup
Younger or fruitier wines such as an inexpensive Riesling are perfect for making the broth for a good French onion soup. "Rieslings go very well with Gruyère, Emmental or Jarlsberg cheese that top the soup. You can also add a touch of Kirsch," Terry explains.
Risotto
For seafood or shrimp risotto, Terry suggests a Chardonnay or a white wine from the Rhone Valley as a Réserve Grand Veneur. If you prefer to counteract the strong taste of Parmigiano cheese a little, you can also opt for white wines from the Southwest, such as the Tariquet Côtes de Gascogne or the Château Calabre.
Osso Buco
This dish of Milanese origin requires impeccable cooking of the veal shanks and an exquisite sauce. It is the white wine that gives the latter its unique flavour. Terry recommends white wines from the Piedmont region such as the Fontanafredda and the Viognier Sauvignon, or white wines from Tuscany such as the Carpineto Dogajolo or the Frescobaldi Albizzia.
A great vintage makes no difference
One should not complicate life with white wine when cooking. Terry never uses a high-quality white wine. "The heat of the cooking and the spices change the flavors of the wine. A great vintage won't change the quality of your risotto or your Osso Buco."
"Come on, to your frying pans and buon appetito!"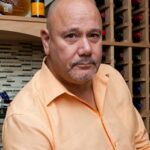 An avid wine lover, Terry Pomerantz shares his love of fine bottles, guided by a responsible approach to the art of living. Discover his advice on food and wine pairing, his favorite bottles, and the ideal choices for each season and occasion. Immerse yourself in his passion and learn to fully appreciate each bottle in good company.