A sustainable trend
Organic white wines and organic red wines appeared on the SAQ shelves just a few years ago. Sulfite free wines, organic wines are in line with the current trend of sustainable agriculture and our need to eat better and drink better. Organic wines are reputed to be better wines than those grown for purely commercial purposes.
However, organic wines are struggling to keep up with the same quality achievements as wines from traditional European vineyards such as the Châteaux Margaux from Bordeaux, the Macon from Bourgogne or the Chiantis from Tuscany. Certain vintages from these traditional vineyards have become undeniably valuable to the eyes of great sommeliers and lovers of good wines.
What is an organic wine?
The difference between natural wine and organic wine is that the latter comes from a vineyard where the winegrower does not use pesticides or fungicides. Many of these growers intensify the life of the soil to promote a better exchange between the vine, the soil and the environment. In order to let the "terroir" express itself fully, some winegrowers reduce their interventions to a minimum during the growth of the grapes and during the winemaking process.
Wines that are too young
Terry spontaneously admits that he doesn't know much about organic wines. "I've tasted a few of them at some friends' houses. Although these wines are interesting as everyday wines, they are young. Most organic wines are produced in new vineyards. These wines are still far too young to have ageing potential."
"If the Italian vineyards I know, like the Borgogno in Piedmont or the Tignanello in Tuscany, would market organic wines, yes, I would like to try and taste them. But no matter who produces them, organic wines won't reach the maturity it takes to be kept in a wine cellar or storage for several years."
But there's always curiosity…
For now, Terry prefers to stick to the wines he knows. "I'm sure of the quality and the pleasure I'll get from sharing them with my friends once the bottle is open. But how can I resist curiosity, divine curiosity…"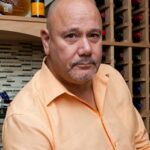 An avid wine lover, Terry Pomerantz shares his love of fine bottles, guided by a responsible approach to the art of living. Discover his advice on food and wine pairing, his favorite bottles, and the ideal choices for each season and occasion. Immerse yourself in his passion and learn to fully appreciate each bottle in good company.