Like many people, you love to taste a good wine, but don't know how to pair it well? Terry Pomerantz, a great wine lover, presents his selection of Italian wines for every occasion.
Italian sparkling red
As we know, Terry's taste in wine is both refined and traditional. "In the summer, a nice warm day sometimes makes me want to drink a sparkling rosé. But instead of a trendy, sparkling Italian red wine, I prefer a sparkling rosé like the Royal de Neuville or a Californian rosé like the Bonterra or the Crema Pinot Noir Monterey. I know, I'm classic!"
Sparkling red wine and Prosecco as an aperitif
"However, several friends who are more "trendy" than I am tell me that Lambrusco, a sparkling Italian red, is very pleasant to drink as an aperitif with olives and peanuts. I also know that Italians consider Prosecco, with its elegant and discreet personality, to be the king of aperitifs. I have read that Conegliano Valdobbiadene and Bisol Vigneti del Fol are among the most appreciated Prosecco."
"As you can imagine, I'm not a big fan of Prosecco. It is rare that I drink a sweet wine as an aperitif. But on a special occasion, I'll spring for quality. I will serve my guests a Château d'Yquem, a wonderful Sauternes. And since we're treating ourselves to this princely delight, might as well serve it with a good foie gras."
Wines and antipasti
Among the Italian wines to taste with antipasti, you can serve without hesitation a Chianti like the Badia a Passignano, a Chianti Classico Gran Selezone, a Barbera d'Asti like Braida Bricco Dell'Uccellone or a Sangiovese Giovanna Madonia Ombroso di Romagna.
Wines and Main Dishes
Terry adds: "Originally from Tuscany, the Chianti is bursting with sunshine. In fact, their dress seems to have captured the light of the Florence sky. If your favorite restaurateur has a Castello di Selvo Ponte Rosso Chianti in their stockroom, order it! Chianti goes very well with pizza."
At dinner, Terry likes to pair his veal Marsala cutlets with a Brunello di Montalcino like the 2015 Collemattoni, or the exceptional 2013 Altesino Montosoli.
With red meats such as a filetto di manzo ai ferri (grilled Angus filet mignon), a 2016 Barolo Fratelli Alessandria or a Barbaresco Pio Cesare will do very well.
Finally, you can't miss by pairing your fish and seafood with a white Italian wine such as a the 2015 Friulano Russiz Superiore Collio Bianco Col Disöre, a 2015 Livio Felluga Abbazia di Rosazzo or a 2017 Planeta Cometa and a 2016 Regaleali Vigna San Francesco, 2 Sicilian wines.
Sparkling red wine for dessert
To accompany the dessert, a sweet Italian wine like Marsala, made in Sicily since ancient times, will delight your guests. We are used to using Marsala to cook veal escalope, but it can also be enjoyed with cheeses and dessert. It should be served at a temperature not exceeding 6 to 8°C.
A red sparkling wine such as the Roberto Maestri Quarticello Neromaestri also goes wonderfully with a Panna Cotta with fruit coulis, a raspberry bavarois, a fig tart or chocolate. You will be bold by serving a Pantelleria, a sweet, aromatic and complex moscato to be savoured with a piece of gorgonzola. "Although I'm not a big fan of these 'new wave' wines, my taste buds are not that sad from the occasional sip. Don't be like me, take the time to love them because all wines, like all children in the world, deserve to be loved!"
"Salute amici e buon appetito!"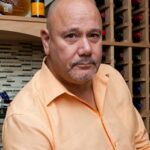 An avid wine lover, Terry Pomerantz shares his love of fine bottles, guided by a responsible approach to the art of living. Discover his advice on food and wine pairing, his favorite bottles, and the ideal choices for each season and occasion. Immerse yourself in his passion and learn to fully appreciate each bottle in good company.