Terry Pomerantz has made a list of the 10 best Quebec rosé wines. How to choose a good rosé? "That truly depends on your taste! You can also take a look at several expert reviews on the net or in wine guides that you can easily find in a bookstore. You can also trust SAQ advisors' opinions.
Quebec Rosé Wines
Several of the grape varieties that are grown in Quebec are a result of hybrid vines that were crossed in order to best adapt to our northern climate. Some of these hybrid vines like the Marquette and the Frontenac were developed at the Minnesota University in the United-States. Others like the Vidal, the Seyval and the Pinot Gris come from France. Finally, some varieties like the Maréchal Roch are the result of hybrids planted and grown in Quebec.
The Frontenac Noir produces outstanding rosés. The Pinot Gris is low in acidity and yields smooth wines with exotic fruit tones, while the Vidal yields dry rosés, which are excellent as aperitif wines.
How Rosé Wine is Made
There are 2 ways to make a rosé:
The saignée rosé method. After having pressed the red grapes and letting the juice macerate in a barrel for 12 to 48 hours, the winemaker allows the lightly colored juice to "bleed off" or drain off, in order to separate the dark pigments from the red grapes. The winemaker will then transfer this pale juice into another barrel or tank, where the lighter liquid will ferment to turn into wine.
The direct press rosé method. This method consists of delicately pressing the grapes in order to obtain a lightly colored juice. The winemaker will then decide when the balance is just right, between color and tannins, according to the norms that were established beforehand.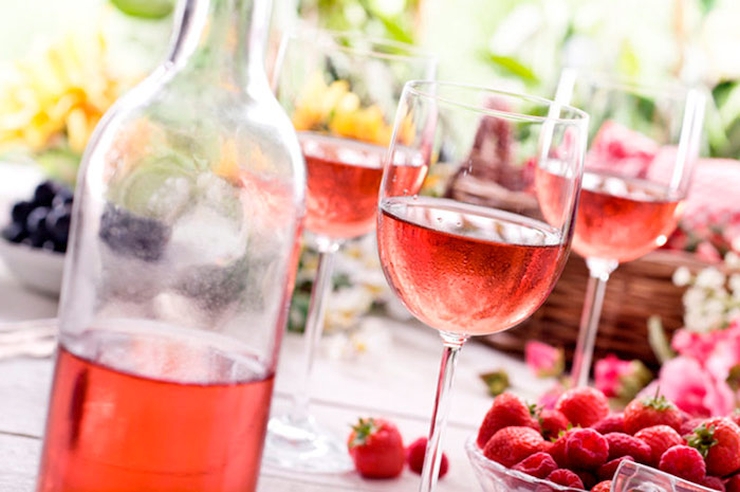 10 Quebec Rosés
Amongst the best Quebec rosé wines, Terry Pomerantz has a soft spot for the 10 following:
The Beauchemin Rosé 2021 (Sabrevois, Chambourcin) from Domaine Beauchemin, in the Saint-Pierre Lake region. Garnet color, field berry aromas. A fruity and tart rosé.
Argiles grises 2021 (Frontenac Gris) from the Ste-Angélique winery, located in Papineauville. Pairs well with salmon, trout and paella.
Diva Classique 2021 (blend of Sainte-Croix, Pinot Noir and Swenson White) from the Vignoble de Pomone Complex notes of red fruit and dried flowers.
Les moutons d'Octavie (blend of Vidal, Frontenac Blanc and Marquette) from the Domaine du Cap An expressive rosé, fruity and dry.
Vin gris 2021 (blend of Radisson, Summerset and Frontenac Gris) from the Château de Cartes Floral accents with slightly sweet notes. Perfect for pairing with desserts or cheddar cheeses.
Union libre UL 2021 (Seyval Noir), from the Union libre winery in Monteregie. Pairs well with salmon rillete and soft brie. Floral and berry aromas.
Château Taillefer Lafon Rosé 2021 (Cabernet franc) produced in the Deux-Montagnes area. A very lightly colored rosé that is dry and smooth. Perfect with salmon tartare.
Écluse No 4 2019 from the Le Bourg des Cèdres winery (blend of Frontenac Gris, Frontenac Noir and Acadie Blanc). Carefully harvested by hand, this rosé with woody undertones pairs well with grilled chicken and lobster.
Rosé Pamplemousse (Frontenac Gris) from the Chat Botté winery, in the Vallée-du-Richelieu. A rosé with cherry, raspberry and strawberry aromas, not too sweet.
Rosé du Coteau Saint-Paul (Frontenac Gris and Sabrevois). Produced in Saint-Paul d'Abbotsford in Monteregie. Subtle notes of maple syrup and berries. Excellent pairing for grilled chicken.